Designing in a distributed team has its pros and cons. It's great you can really get your head down and get some 'serious focus' on – which makes for a lot of quick progress in a short space of time. But, it's not without its challenges too.
The biggest missing element for us at Hello you are those quick over-the-shoulder sharing sessions, where someone glances at your screen and says oooh, that's nice, or just a 'whatta you up to?' moment. As well as being a nice social interaction, these moments invite comment and dialogue, which can really speed up the design development process.
Recently we've been playing with Wake (https://wake.io) which acts like a 'Dribble style' image snapshot feed for internal teams. It's well integrated, with things like its clipper app, which enable you to share with a minimum of friction. Tagging makes it easy to filter content (if you remember to add them). There's even a mobile companion app. So yes, it's definitely feature rich, BUT… I couldn't help gulping at the cost. $12 per contributor, per month. I really loathe those 'per user' pricing strategies. They ramp up so quickly when you're dealing with a lot of contributors.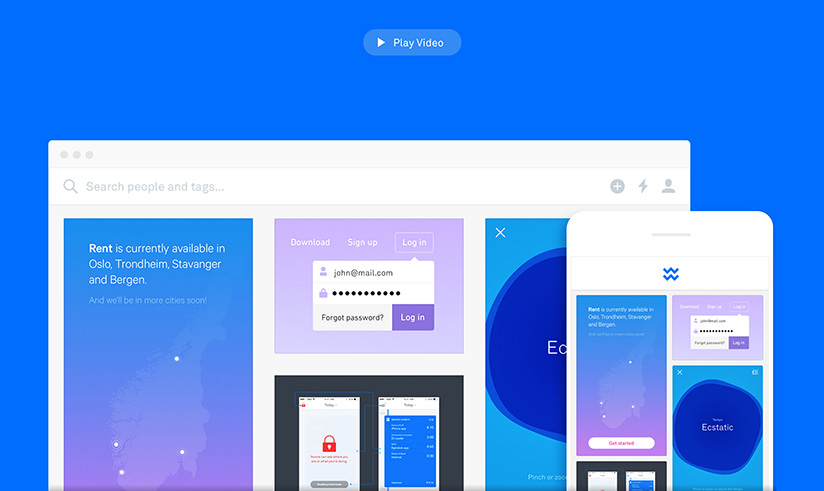 Besides, it's always fun to be creative and innovative with what you have – rather than just buying new stuff.
So with that in mind…
I started exploring ways of recreating the process using only the services we already use (which also has the benefit of a really shallow adoption curve, as we're already 'in' them all day anyway. So the question was… how we can replicate the 'over the shoulder design sharing process' using just what we have – even if we end up with something not quite as fully featured as using Wake?
At first I simply set up a new sibling project within Invision (our design presentation tool) to work alongside each main project. Now admittedly, you can use Invision projects in a more collaborative way, with commenting etc. However we tend to use them in that way at a more advanced stage of development – with clients having access and commenting. So the thinking was to separate the early stage internal thinking and design evolution, from the more polished design and presentation building stage.
The downside is having to double up on invision prototype quota. So depending on your pricing plan, you're going to need to carefully manage projects and use archiving – a lot.
This was just about the time I received an email from Invision highlighting the new 'Boards' feature' – which was so close to what I was originally after, it was spooky. Christmas had definitely come early.
An Invision Board is a place for sharing images with team members and has commenting and notifications built in. But it's the 'designability' of the page layout itself that sets Boards apart (and surpasses even the Wake interface.) Boards allow you to upload images and then drag them around the page to reorder. You can even alter how much space they take up – 1/2/3/ or 4 columns of width. Text breakers can also be added to delineate chunks and add a narrative flow.
It's this level of control which really enables you to organise your content effectively and creates that 'curated scrapbook' feel.
Which in terms of information sharing with others, goes beyond just 'seeing' isolated chunks of design. It has the potential to expose the thinking behind design decisions. The ordering and categorisation allows others to get up to speed quickly on a project if they're late to the party.
There's also benefits at the end of a project, as you're left with a great historical document for seeing the evolution of a project.
This can also be used as an aide-memoire to create structure to any 'end of project learnings' discussions.
So what's missing?
Proper integration with Slack would be great to have (where new changes in Invision automatically get added into the appropriate slack channel). Right now that feature only works with 'Prototypes' in Invision and not Boards, but as a result may well be on the roadmap. It could possibly be achieved using 3rd party services but so far, our go-to app hook up service, Zapier, isn't currently supporting Invision 🙁 That being said, it's still not a huge issue to manually pull out a link and share in Slack.
So if you're on the Invision platform already, give Boards a try. If not, try the Wake 30 day free trial. Alternatively, if you've got any other workflows for sharing design, we'd love to hear from you.