Now that we're all big on UX, we're all doing user research, right?
In our world, of digital and UX design, there's a mantra that goes like this: if you craft your digital presence and comms with real user input and feedback – and not just what the boss or other internal stakeholders think is needed – you're far more likely to get better end results.
As user research gets you closer to knowing what your users think, you're then more likely to design something your users like, meets their needs, using messaging and concepts they understand and feel affinity for. And research helps you identify usability issues, which you can fix. User research won't do the design for you, but is one of the foundations of great design.
'Yeah yeah yeah' you might say, 'everyone knows that now, we "do UX" nowadays too'. While I realise I may be preaching to the converted, I do ask: if this is such a given these days, and as more businesses understand the value in creating differentiated user / customer experiences, is user research now a key part of most forward thinking businesses' CX/UX toolkit?
We were interested to find out if this is the case in the 'real world'. Do businesses do user research? If so, what do they do, and what do they say they get out of it? 
So we surveyed a range of contacts on whether they include user research as part of their digital design and marketing activities. We asked them what kind of research is conducted, and how they benefit. And if they don't do it, why?
So let's cut to the chase. Read on if…

…you want to know the kind of UX research businesses do.

…you want to know the value they get from it.

…you want to know what prevents people from doing it.

…you're looking for some stats about user testing for a presentation, pitch, or just want to try to persuade your boss to sign off the budget. 😉
The findings: the executive summary
So here's a top level lowdown for you…
57% of businesses said they do user research. That's good, as it means more do some form of user research than not. But that still leaves a fair chunk who don't. 
Those who do user research report a wide range benefits:
79% identify usability problems they can fix.
73% develop valuable user insight.
69% improve user journeys.
65% improve content.
89% of those who don't do user research, think they should. They're held back by resource, lack of knowledge or budget.
Businesses who conduct research on average do between 3-4 different types of research activity.
User surveys is the most popular form of user research, closely followed by live usability testing.
User research is not a silver bullet. Over 50% who conduct research still have a site that 'let's them down' or say they 'could to better' when it comes to customer service. This perhaps reflects that improvement takes time.
81% include mobile devices as part of their research.
The findings, in a bit more detail
The first question we wanted to know was how many people actually did research: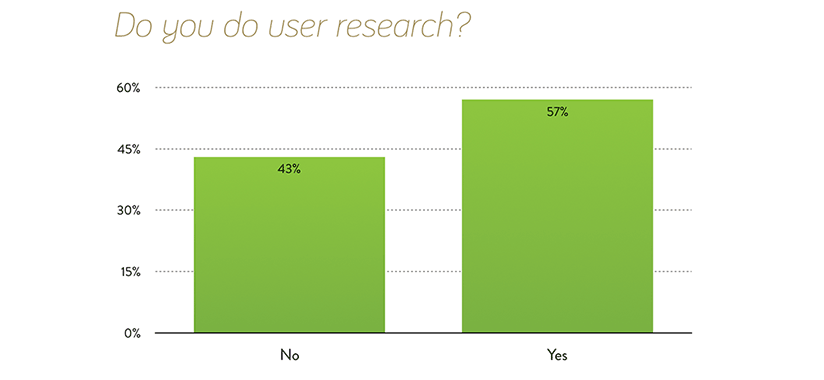 We then wanted to see the correlation between a companies' attitude to customer focus and their propensity to test. We found this following chart surprising. Almost half (46%) of those who said customer focus is a big differentiator don't do user research. Are they resting on a laurels or missing an opportunity to stay ahead? Those who strive to do more are, perhaps unsurprisingly, proportionately doing more user activity than anyone else: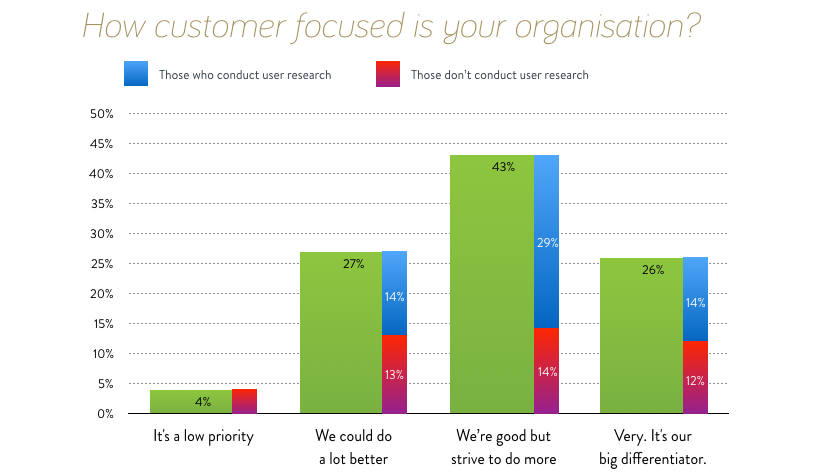 User research activities
Most businesses who conduct user research do more than one activity – in fact the average was 3.69 activities per respondent. Surveys are the most popular form of research, followed by live user testing and prototype testing.  Here's the activity breakdown: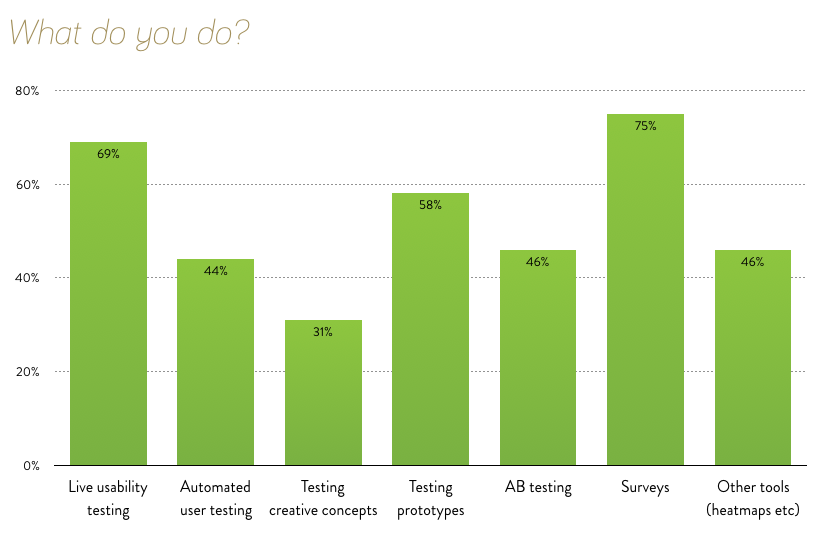 And, more importantly, here's how they benefit from testing. The most common benefits being improved usability, better insight into customers, better user journey and more relevant content.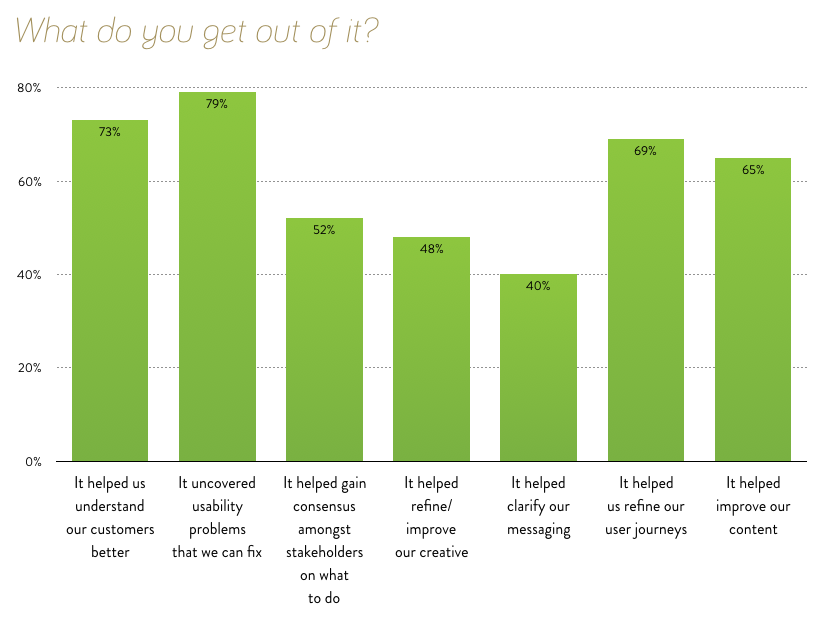 Those who don't do research
So what about the 43% who don't test? It's not as if they don't believe they'll benefit from it: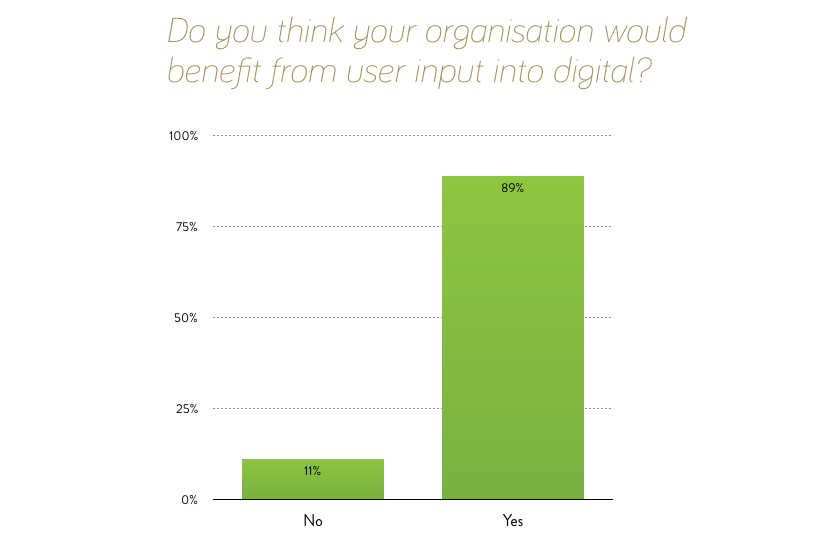 For those who said they would benefit, it's mainly lack of time that's the problem, but also knowledge and perhaps a reluctant boss. Budget also, of course, plays it's part: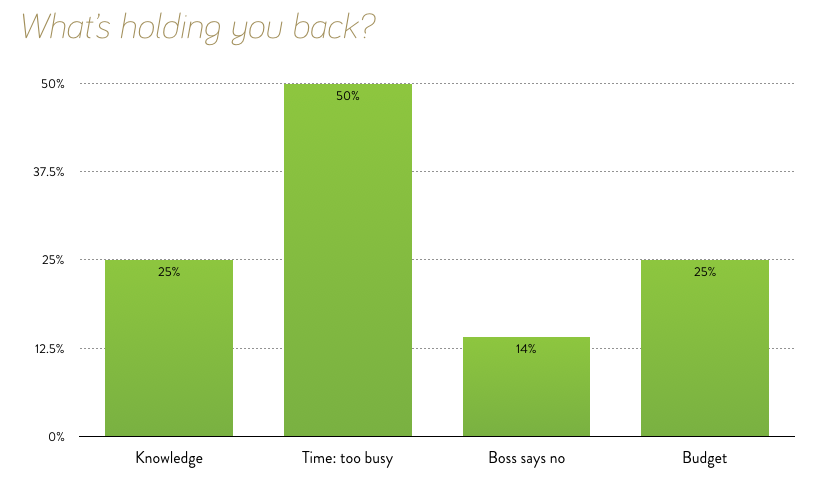 Mobile
We asked those who test if they specifically test on mobile devices. 81% do – which perhaps surprised us (as mobile testing is tricky compared to the range of desktop testing tools), but it's good to know.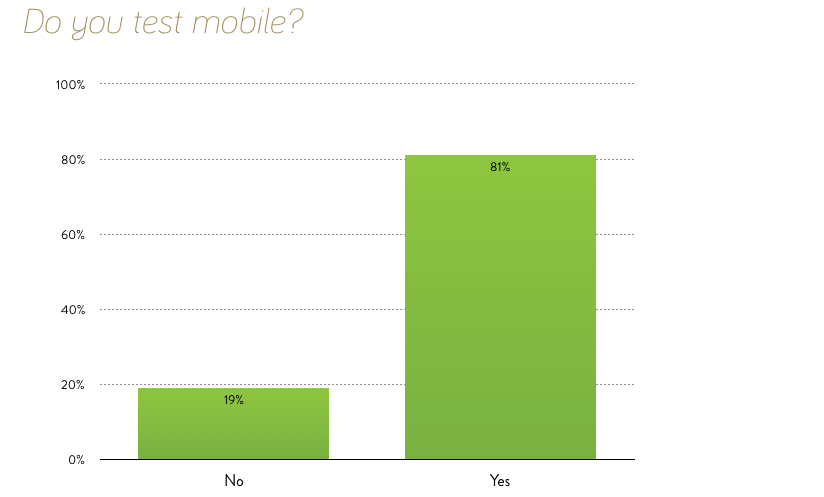 And finally, who runs the research?
The last question we asked was about who runs the research. Most businesses manage this in house (it's really not hard to get started), with a third of respondents using agencies (sometimes to supplement in-house).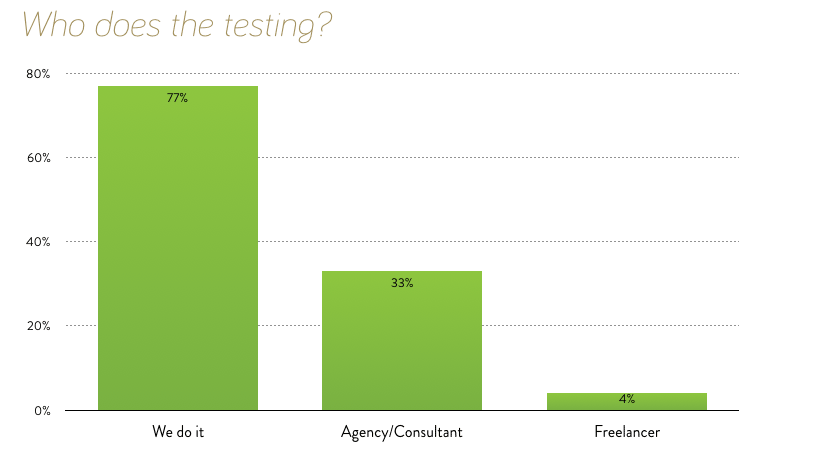 Wrapping up…
It's clear that those who research and test more, feel they benefit more. Identifying problems in their digital experiences enables them to fill the holes and improve the customer experience. However the barrier comes in setting up and running a program of research: getting started seems to be the hardest part. (Of course, after this you still need to analyse results and apply solutions).
If you feel like you need help getting started with your own research – or could benefit from a fresh perspective on interpreting the data and design – we'd love to help.  Drop us a line and we'll get the ball rolling.
Feel free to use these stats to make your own case for research… we'd simply appreciate an attribution and a link back to our site. If you want to discuss the stats further, drop me a line.