In the real world people don't think about UX. My wife will never say 'ooh I think the UX could be improved on this site', she'll just say 'this is a piece of crap, it doesn't work properly'.
But our world is the digital economy, of agency and clients. In this world the terms 'UX' and its long-form ('User Experience') have become the accepted shorthand jargon for the quality of our prospects' and customers' interactive experience with a website, app or other digital presence.
So when we say 'it's got a good UX', we mean we think it either looks good, is nicely put together and/or is intuitive to use. When we say 'the UX could do with some work', we means it's unappealing or frustrating to use (or worse) and, given the choice, we'd probably ditch it and use something better. None of this should be news to you, by the way.
A good or bad UX can determine the success or failure of digital work. It's therefore a big deal for any business that needs an effective digital presence. We know that. You hopefully agree.
So lots of talk about UX this, UX that. We all want our stuff to have a 'good UX', don't we?
And just as UX has become the accepted shorthand for describing the experience, UX design* has become the accepted term used by clients and agencies alike for the practices involved in designing interfaces that customers like to use, that differentiate our product and services, that meet the needs of customer and brand alike, etc.
As a specialist business that a) earns its crust from 'UX Design' b) is often brought into project teams to 'do the UX' and that c) bangs on about UX all the time in blog posts such as this, we've been asking ourselves a question: does anyone actually know what on earth we've been banging on about?
From many briefs and conversations, it's clear to us that 'UX Design' meant many different things to different people and there wasn't any real consensus about what was involved. We wanted to find out a little more about actually what it does mean to our audience.
So to find out we surveyed a load of marketing decision makers and other movers and groovers. What is actually involved when doing UX Design? When your creative team or agency is 'doing the UX', or if you are buying UX design services, what are you actually getting? What's going on?
Here's what our respondents think 'doing the UX' involves (they could pick any they considered relevant):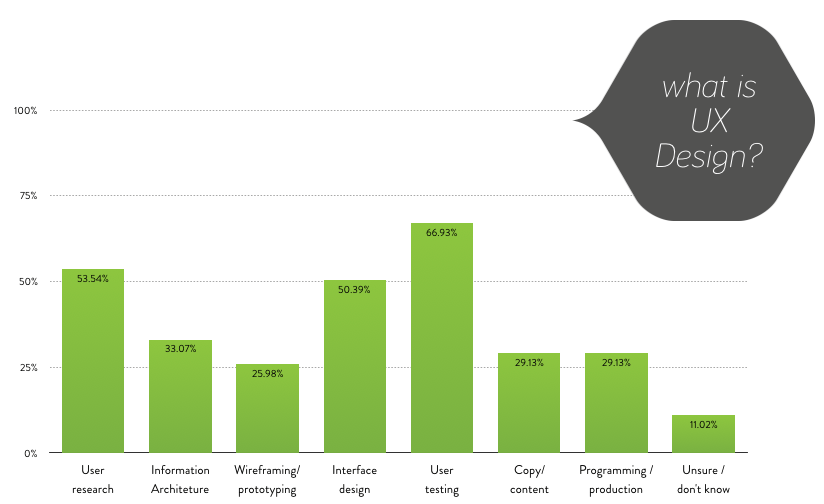 While most people (89%) had an opinion, as expected, there's no general consensus of what's involved in UX.
User Testing is the most commonly held view, followed by User Research then Interface design. Perhaps worryingly, only half of respondents think 'doing the UX' involves Interface Design.
Only 17.1% consider prototyping and wireframing – generally a key part of a good user-centred design process.
I suppose no one is particularly wrong here. UX is an umbrella term that covers a variety of things, and you could argue that it's as much about mindset and approach as a defined set of activities.
For the record, we believe a thorough UX process involves everything on this chart (excepting the 'don't know' of course). Each of which can involves a variety of tools and techniques. Some people may omit copy and programming from the UX Design stack. But we think effective UX Design requires an end-to-end process that includes these. Programming, while perhaps seen a something that follows UX Design, is critical: getting implementation right has a big impact on the effectiveness of the user's experience. We've seen great design undermined by a detached build process – something to avoid.
We also asked our respondents to tell us how important UX Design is compared to other marketing and communication objectives. The results were interesting: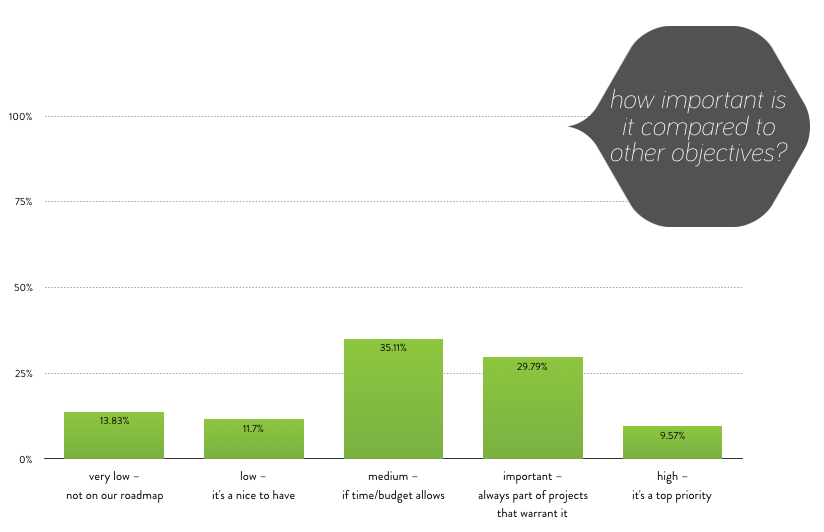 Over 60% of our respondents did not rank UX as being a priority for their business.
Good news for those who want to differentiate their business through providing a better user experience: if 60% of other businesses don't focus on it, you're going to get an instant head start on the majority of the competition.
Finally, we asked is UX Design is applied to new projects, or a way of enhancing existing work, or both. Here's what our respondents thought: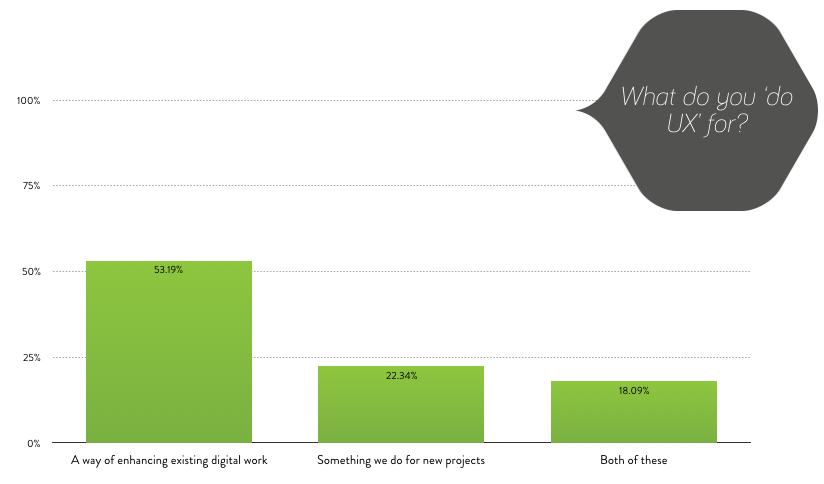 The majority belief is it's a way of enhancing existing work rather than for new projects. Whereas only 18% of respondents believed it's used for both new and existing work.
For us, every touchpoint with a brand is part of the UX – digital or otherwise.
So, to wrap this up, key takeaways from our short survey?
There are different opinions around what's involved in UX Design.
It's not a priority for the majority of clients. If you make UX a focus, you can steal a march on your competitors.
Most people think it's about enhancing work, rather than something you do for new work.
All of these point to the need to educate and communicate what makes an effective UX design process. So, for now, we'll continue banging on in this blog 😉
*Whether or not 'UX' is something you can really design has been subject to much (often pedantic) debate by some digital designers. Can you really design an experience that someone else has? Maybe, maybe not, but we're slipping into naval-gazing here. The fact is 'UX Design' is the commonly used parlance.